CASH FOR SCRAP CARS QUEENSLAND
Looking for top cash and commercial truck buyers for your scrap truck? At Truck Salvage we pay cash for unwanted trucks and our offers can reach up to $30000. Our attractive deals in cash for wreck trucks is a simple policy to supply our Queenslanders, with fair pricing for their junk trucks, and hassle-free scrap truck removal in the Queensland South and Central regions in particular.  At Scrap Truck Buyers Queensland, we get you top cash for broken heavy vehicles in any condition irrespective of whether it is in running condition, used, rusted, or has mechanical issues. We always offer the highest possible price for your truck's Queensland wide plus free truck removal services. Hence if you are looking for Scrap Truck Buyers Queensland then look no further than Truck Salvage.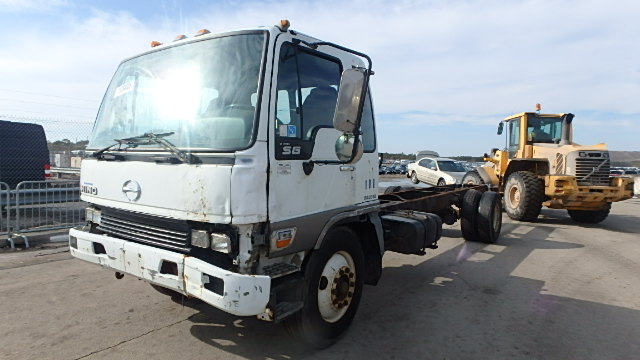 Truck Salvage Offers Cash for Trucks & Commercial Vans
Do you have a scrap truck and no one is willing to pay for it? Sell it to us and we will pay you top dollar. We offer the best cash for trucks in Queensland. As the leading truck wreckers in Brisbane, we give top cash for trucks and a free truck removal service as well. Our team of truck wreckers will reach your location and help you get rid of your scrap truck in no time. All you have to do is call us and get a quote. We will take it from there.
Scrap Truck Buyers Queensland
HERE IS HOW IT WORKS
Contact Us
You can give us a call on 07 2102 5477 or send an email to us mentioning all major turck details like brand, make, model, type and condition. You can also fill the online form available on the website. We will give a quote to you considering all aspects of your old or damaged vehicle. Even if your truck is not road-worthy, we still have cash to offer you. If you want to make money out of your junk truck, call us and get a quote today!
Truck Removal
You can either get your truck removed on the very same day or as scheduled. Our Scrap Truck Buyers Queensland will reach you in no time. Once we decide a quote, our truck recyclers will reach you on the given time and location. They will inspect the truck and go about the rest of the selling process. We come with all the necessary paperwork to assist you on getting it done. We also come with our own tow trucks so that you don't have to bother about the loading and transportation of your vehicle. It is as easy as it sounds! If you want to sell your truck and get instant cash for it, we are the best Scrap Truck Buyers Queensland.
Cash for Trucks – on the Spot
Do you want to get cash for an old and damaged truck? We have you covered. We pay you cash on the spot and remove your old truck. We will hand over the cash to you before we take it away. If you want instant cash for old trucks, reach out to us and know the true value of your vehicle.
Sell Truck Brisbane – Quick & Easy
Selling a truck does not have to take days or weeks. In fact, with Brisbane auto wreckers as your Scrap Truck Buyers Queensland, selling your truck does not even have to take hours. We make cash quotes for trucks over the phone and online. To obtain a cash quote for your truck, just contact an appraiser at truck salvage to provide them with the details of your truck. Please be as thorough as possible when describing the vehicle. We will get back to you with a quote and arrange for the sale to be completed at the earliest possible time. Selling your truck is simple and easy when you choose us.
We Buy Trucks of All Makes and Models – Every Age and Condition
Best of all, we are the truck wreckers that buy all prominent brands including Kenworth, Mazda, Mack, Fuso, Isuzu, Hino, Volvo, Freightliner, Mitsubishi, Mercedes Benz, Toyota and much more. You do not need to worry whether we will refuse to buy your vehicle due to its manufacturer or not. We will gladly buy automobile of every age, model and condition.

Let us give you our best truck quote for your used rigid trucks for sale. We buy any trucks such as box's, curtain sides, fuel tankers, scrap bus, flatbeds, concrete mixers, vacuum tanks and body tippers. Sell your used rigid truck today.
Toyota Truck Wrecking: Hilux, Landcruiser, Hiace, Dyna
Mitsubishi Truck Wrecking: Mitsubishi Canter and Mitsubishi Fuso
Hino Wrecking: Hino FD, Hino FC, Hino FF, Ranger, 300 series.
Isuzu Wrecking: Isuzu NPR, Isuzu NQR, Isuzu FSR, Isuzu FRR, Isuzu SBR.
And more
Tow My Truck for Cash (Sell Truck Online)
Truck Salvage – Scrap Truck Buyers Queensland has paid up to $30000 for junk trucks to our clients and we are willing to do the same for you. To help us pay you the best on-spot cash for trucks in Brisbane and beyond, contact us with information such as…
The make and model of your unwanted truck
The current age of your scrap truck
Any condition of your junk truck
With this information, we can provide you with free cash for trucks quote. Plus, we can arrange to pick up your truck for free and pay you cash for trucks in Queensland.
Almost all trucks qualify for cash for trucks and free truck removal.
Your truck does not have to be roadworthy
The truck does not need repairs before the sale
Trucks do not need to be in working condition
Unwanted trucks could be old
 You could have a wrecked truck for sale
 You could have a junk truck for sale
Free Paperwork
While it will be necessary to provide proof that you are the legal owner of the truck, we will provide all the other legal paperwork to complete the sale of the truck. With providing the paperwork, sellers are assured that all the proper documents for the sale of their trucks are complete and that all liability of the vehicle is transferred to us once signed. With TRUCK SALVAGE, you have all the courtesy services we offer to eliminate all hassles when selling trucks.

Truck Wreckers That Don't Charge for Towing
We know that your truck is likely not in driving condition. We also know that towing is a time-consuming hassle and often costly. We take the time to provide vehicle owners that sell their auto to Truck Salvage with free towing. Our towing staff work around the clock so that vehicle owners let us know when they want us there to buy & remove their vehicle. Same day Truck Removals at times convenient for vehicle owners are always doable. Just give us a call, and we'll schedule a free Truck Removal anywhere in Queensland South and Central.
Brisbane, Somerset, Sunshine Coast, Moreton Bay, Redland, Logan, Noosa, Gold Coast, Scenic Rim, Ipswich, Lockyer Valley.
The Company Truck Salvage is committed to paying for scrap trucks in the Queensland South East wide. We are based in local Brisbane and picking up vehicles from Central to South to East . The towing drivers are available in 2 main pickup points in South that cover the Eastern part as well. We also have 2 major pickup points in Central Queensland. Our Scrap Truck Buyers Queensland services belong to all such vehicles that are unwanted or accidental and ready to recycle.
SELL YOUR TRUCK TODAY
Get A Quick Valuation for Your Truck Today
To have us buy your truck, you must first have the truck evaluated so we can make you a cash offer. To get a truck evaluation, please contact us at the number below, or fill out our online quote form at the top right of this page.
We buy trucks paying owners up to $30,000 for their truck of any make and condition. To get an instant quote, contact us with the make, model, age, and condition of your vehicle.
Call us at  07 2102 5477
Complete our "get a quote" form
We love to hear the words SOLD – that's why you can count on us for the best Cash for Trucks offer.