SELL UNWANTED BUS AND COACH IN BRISBANE
Many bus owners have the following thought – "Where or how to sell my old bus near me". If you one of those Brisbane residents then you need to find a trusted and professional Bus Wreckers Brisbane. Truck Salvage is an experienced and friendly unwanted coach buying company. Our auto scrap yard is located in Rocklea suburb and our truck removal services extend to most of towns of Queensland region.
We conduct market research and use our experience in the auto valuation process. We don't simply just rely on computer-generated figures. Our Bus Wreckers Brisbane team has years of knowledge of the commercial vehicle wrecking industry. They continuously conduct professional independent research, that helps find you the best deal.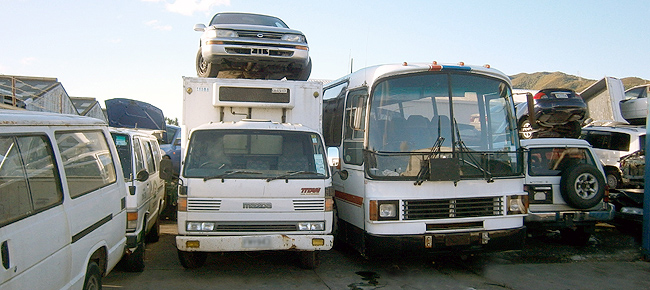 Based in Brisbane and working alongside the car wreckers, we are one of the largest auto breakers and suppliers of parts for buses and coaches. We work throughout Queensland and have purchased all sorts of buses including:
School bus.
Shuttle bus.
Minibus.
Minicoach.
Double-decker bus.
Single-decker bus.
Low-floor bus.
Our main area of activity is Brisbane and Goldcoast where we are ideally placed to take advantage of many of the bus and coach wrecking services.
Hino Rainbow Wrecking Buses
Nissan Civilian Wrecking Buses
Toyota Coaster Wrecking Buses
Mitsubishi Rosa Wrecking Buses
Volvo B12 Wrecking Buses
Scania Apollo Wrecking Buses
Read more: Prime-Mover Truck Wrecking & Salvage in Brisbane.
WE BUY MINIBUS AND SCHOOL BUS FOR WRECKING
Bus Wreckers Brisbane offers you cash for your unwanted bus. We welcome all years, makes and models of buses, domestic and foreign, whether they are running or not! We specialize in IVECO EURORIDER, VOLVO B11R, DENNING PHOENIX, SCANIA, BONLUCK STAR GAZER,  and MERCEDES buses and we offer the highest prices for your junk buses and coaches.
Salvaged buses that come to Bus Wreckers Brisbane facility are cared for in an environmentally-friendly manner. Our team of expert auto dismantlers will remove and recycle all of the vehicle fluids and hazardous materials from your vehicle as soon as it arrives at our facility.
Through environmentally responsible recycling of junk vehicles, we all help the environment by reducing the need to create new products from raw materials which in turn saves energy, water and reduces mining and other production wastes.
SELL MY COACH TO BUS WRECKERS BRISBANE

?
It really is that simple. We buy any minibus! If you have an unwanted coach you want to sell … contact us NOW! We aim to make the process simple and quick for you, we aim to offer fair prices and we operate and can collect Queensland wide. To start, just fill in your details and the details of the minibus you're selling.
We are always looking to add to our inventory and there is no better way than buying your used minibus or tour bus. Fill out the form below and one of our representatives will contact you.
We regularly feature stock from Isuzu, Scania, Volvo, DAF and Fuso in our wrecking yard.
TruckSalvage pick up buses or coaches in Australia wide! Below are some of the major cities & areas we service.
Visit your local Bus Salvage Australia: