Isuzu Wreckers Brisbane: Sell Your Unwanted Trucks, 4wds in Queensland
Lost the power? Can't find a buyer? Roadworthy or not, Truck Salvage is one of the Top Wreckers in Brisbane who specializes in Isuzu TRUCKS AND 4WDS. Give us a call. We'll make you an offer on your scrap or used Isuzu. We buy all Isuzu models, on the market and off, of any year and condition. Cash sales and free scrap truck Removals are part of our buying package. Get your Isuzu sold today for the most cash. We buy 4×4 Isuzu D-Max Ute & MU-X SUV.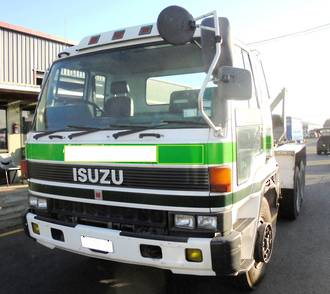 HOW TO SELL ISUZU TRUCK TO WRECKERS?
If you are looking for an Isuzu Wreckers, then you know where to turn it. The process is quick, fast, easy and reliable by filling out our online form or giving us a call. Simply give us the details of your Isuzu truck such as the age, model, year and any mechanical issues for your non-obligatory quote. All we need from you is a YES and we will come to your location anywhere in Queensland region and its towns and we will pay you cash for your scrap, unwanted, junk or wrecked Isuzu truck instantly! We will remove your truck for free! Getting rid of your unwanted or used Isuzu truck is never this easy with Truck Salvage.
Up to $15,000 Cash for Scrap Isuzu Trucks & 4WDs
Isuzu Wreckers pay the top prices for old or broken Isuzu's in Brisbane, Gold Coast, Sunshine Coast, Toowoomba, Ipswich, and other major Queensland towns. You can get up to $29,000 instant cash from our Brisbane truck wreckers team when we come to remove your vehicle. Get a cash quote by calling 0413 645 043, by filling out the form on the right or by visiting our Free Quote page.
On top of paying cash for Isuzu's, we offer free removal from wherever your vehicle is in the great Queensland region. Just let us know where the vehicle is and we will be there as soon as possible to take it away.
F-Series FRR FRR 500
F-Series FRR FRR 525
F-Series FRR FRR 550
F-Series FRR FRR 600
F-Series FRR FRR90 2008-2015
F-Series FSR FSR 500
F-Series FSR FSR 700
F-Series FTR FTR34 2008-2015
F-Series FTS 4×4 FTS139-260 2016-
F-Series FVL FVL23 2000-2005
F-Series FVM FVM13 03
F-Series FVZ 1400
FVR 900
Giga CXY CXY51 2001-2005
N-Series NKR NKR 200
N-Series NLR NLR 200
N-Series NLR NLR85 10/2007-2011 Euro 4
N-Series NNR NNR 200
N-Series NPR NPR 200
N-Series NPR NPR 250/300
N-Series NPR NPR 400
N-Series NPR NPR71
N-Series NPR NPR75
N-Series NQR NQR 450
Isuzu Bighorn, Isuzu MU, Isuzu Rodeo, Isuzu Dmax, Isuzu Trooper
How to Get Cash for Isuzu Vehicles in Queensland?
1. Get an instant quote by calling 0413 645 043
2. Set up an appointment with one of our Isuzu Wreckers towers.
3. Our tower will pay you cash on the spot.
4. We will tow the junk truck away to our local junkyard FREE of charge.
Local, Friendly and Committed services
You will never get satisfied unless you sell locally. We can understand your needs. Get the online or quotation by phone and we will stick to what we commit.