Cash for Flat Bed Trucks – Get The Most For Your Scrap Truck Anywhere in Queensland
Tray trucks are workhorses; the backbone of any transport industry and any courier business. Tray trucks are also the preferred vehicle for the freight companies. But, they've also become public vehicles, filling up Queensland roads. In short, tray trucks are everywhere.
Fuso, Hino, Isuzu? Something Else? Wrecked, Running, Scrap? manual or Automatic Transmission? Japanese or European? Whatever condition of your unwanted flat bed truck, Scrap Tray Truck for Cash by giving Brisbane Truck Salvage a call. We are your used truck buyer in Brisbane that will buy your truck or 4×4 of any condition.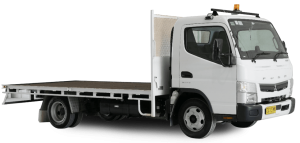 For truck owners who is looking for Scrap Tray Truck for Cash and even if their scrap truck no longer runs, that's okay too. Our free truck removals service buys scrap trucks, junk trucks, damaged trucks and accident vehicles that the only place for them is the truck wrecking and truck recycling yard. With our recycling process, your scrap, accident, or damaged truck won't end up in a landfill. Our process is Eco-friendly and one that puts up cash in your hands, even for a vehicle that is no longer running. For an easy cash for flat bed trucks service, contact us today. Our truck wreckers will make sure you get top cash today for your used trucks.
Cash for Old Trucks – Sell Your Old, Scrap, Used Truck For The Best Price
We buy all tray truck brands namely:
If your truck has mechanical issues, was damaged in an accident, or suffered engine failure we do not consider it, we pay you instant cash for your truck.
Truck Salvage is your "any condition" truck buyer. We buy trucks "As Is", in mint condition, and ones that are total pieces of scrap. As professional truck buyers, we don't waste time in buying vehicles. We get right to business, calculating the value of your truck, making you an offer that is fair and accurate. We buy all types of trucks including mini trucks, light, heavy, very heavy, Small and medium trucks for cash.
Getting your old, damaged truck removed can be a nightmare. But now it is just a matter of phone call to sell an old and damaged truck. We buy all old, fire or water damaged trucks for cash. Truck Salvage has made it easy for the Queenslanders to get rid of their old trucks. Our team works in a transparent way and there are no hidden charges for towing.
Why Choose Us?
Truck Salvage is a professional, licensed & insured truck buyer in Brisbane that is in the business of buying trucks, and offers fair cash offers.
We believe in fast and courteous used truck sales, which do not take a lot of our customers' time. This is why we have created our services to be the fastest way to Brisbane to get your unwanted truck sold.
We offer:
Instant cash quotes
Instant cash payments of up to $29999 cash
Free truck removals Queensland wide
Eco-Friendly truck disposal & recycling
Paperwork provided
Once we load your vehicle on our truck, the cash is in your hand, and the liability of the vehicle is off your shoulders.
Contact Us Today
To obtain cash for trucks offer & schedule a free truck or 4×4 removal anywhere in Queensland, contact Truck Salvage at the number below. We are your truck buyer that won't waste your time.
Call us at 07 2102 5477.